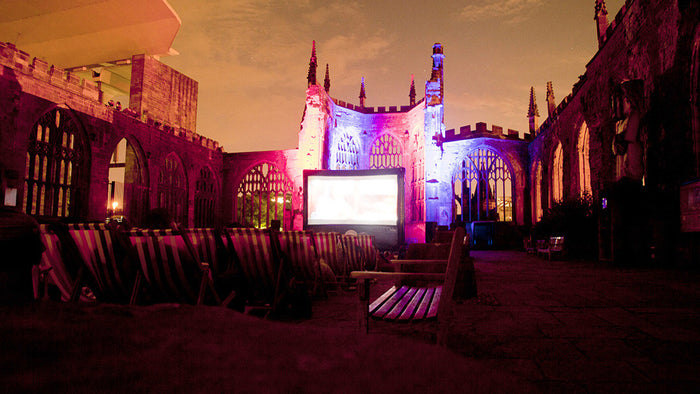 Cult Screens
the people who bring you the ultimate outdoor cinema experience. Running screenings throughout the UK, mostly open air in some of the most spectacular locations. Like Coventry Cathedral's Ruins, Rugby School, The Walled Garden Poole...
Cult Screens huge high definition screens with superb audio bring most movies to life. And enhanced by the whole experience of watching a film in an outstanding location. Seating comes in the way of deckchairs and bean bags.
And no visit to the cinema is complete without the right food and drink. Of course Cult Screens take this to the next level offering craft beers from independent breweries, carefully selected wine and our Poison Cocktails range of amazing tasting ready made cocktails.
Food comes from the great street food experts Kurbside Kitchen. Offering their outstanding German frankfurters with gourmet toppings, Cajun fries, nachos etc
They even offer freshly made popcorn!!!
So live a little and find a screening, give it a try, eat lots and drink some Poison Cocktails... the diet can wait!