Long Island Ice Tea Cocktail Gift Box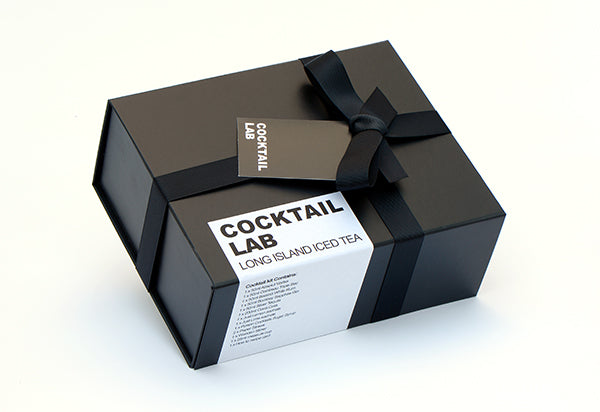 Long Island Ice Tea Cocktail Gift Box
Luxury black cocktail gift box with hand tied ribbon and gift tag with all the ingredients and instructions to make two generous sized cocktail Long Island Iced Tea. Guaranteed to get any party started... 
Long Island Iced Tea                                                                                                           
A potent classic cocktail which gained it's name because of the resemblance in colour to iced tea, but also the dangerous similarity in taste too... However this kind of iced tea can get you into trouble fast!
This legendary drink has a whopping 9 flavours and ingredients in it to make it a super boozy beverage. Equal measures of Silver Tequila, Bombay Sapphire Gin, Absolut Vodka, Bacardi White Rum & Cointreau Triple Sec... Mixed with citrus & Sugars and topped with a dash of Coca-Cola make this an amazing medley of flavours where one drink just isn't enough!
Cocktail kit contents:
1 x 50ml Absolut Vodka
1 x 50ml Cointreau Triple Sec
1 x 50ml Bacardi White Rum
1 x 50ml Bombay Sapphire Gin
1 x 50ml Silver Tequila
2 x200ml Coca-Cola
1 x Just Lime sachets
1 x Just Lemon sachets
1 x Cocktail Lab Sugar Syrup
2 x Paper Straws
1 x Wooden Stirrer
1 x 25ml measure cup
*Please note - Postage fees are charged before completing checkout.
(Postage for this one Cocktail gift to addresses in the United Kingdom Mainland will be £5.95. Multiple items ordered will not increase the postage charge.) 
This gift box product contains alcohol. By purchasing this cocktail gift kit, you confirm you are 18 years of age or over.